Op-Med is a collection of original articles contributed by Doximity members.
When your ankles are tied together, you don't so much walk as shuffle. So when the man told me to walk forward, I hobbled to the end of the edge of the precipice and looked out on nothing — about 140 feet of nothing that ended in an impossibly blue river.
"Let go of the railing," the voice behind me instructed.
I wasn't sure if I could let go. I was afraid I would lose my balance, especially as my ankles were tightly bound together.
"It's OK, I've got you," the man encouraged, "I won't let you fall."
That was an incongruous statement. After all, I was standing on the edge of Kawarau Bridge, the birthplace of bungee (or, in New Zealand, bunjy) jumping. I had come here to jump off the bridge, but now I was afraid of falling?
The instructor counted down, "3, 2, 1, make it happen."
I made it happen and leaped out into nothing. I plummeted in the same way I would have if I had fallen, but where the idea of losing my balance scared me, the jump was exhilarating.
It was not the most frightening leap I had made in the last year, despite how big the jump from the Kawarau Bridge had been.
"I didn't sign the new contract," I told my wife.
She looked at me with an incomprehension that mirrored my own, "OK … What does that mean?"
"It means I don't have a job anymore."
My wife was surprised by this news, but no more than I was when I walked out of the office that evening, the contract unsigned and the deadline in the past. I had planned to sign it despite my reservations. Repeated negotiations haggled over the salary and bonus structure, but those factors were not my primary concern. I disapproved of the loss of control I was asked to accept. In the latter part of my career, I expected increased flexibility to be a reward for my decades of sacrifice. Moreover, I was unhappy with how a large corporation had taken over and managed the hospital from afar.
Despite my reservations, I expected to sign whatever my partners agreed on. After all, I didn't have anything else lined up. I didn't feel I had a lot of choices, and I wanted to support my associates. But when it came time to put the electronic signature to the online contract, I didn't do it. No fanfare, no drama, just quietly closed the page and left for the day. My career ended, not with a bang but with a whimper, and I fell into the unknown.
I didn't leave that practice because I had something better lined up. It wasn't that I was looking for greener pastures. It was that signing that contract felt like I was tacitly expressing approval of things I disapproved. I worried that doing so would compromise my values and make me less of a doctor and a person.
Losing your job is a frightening prospect, no matter how virtuous a spin you try to put on it. I suffered through many sleepless nights over the subsequent weeks. But there was one important distinction: I hadn't fallen. I had jumped.
I began a new round of talks with management in the hopes of reaching an arrangement that I found acceptable. It immediately became clear they were not negotiating in good faith. Instead, they were stringing me along until they figured out how to replace me. So I played my part in the corporate charade to buy time while exploring my options.
I looked into joining a private group where my skills in endoscopy and my colorectal expertise would be an asset, but that practice was in the midst of its own struggles. I pursued locum work and found a huge demand for someone of my diversified skill set. I enjoyed the locum experience, the challenge of working in new places, and the feeling of being valued and appreciated. I did not like being away from my family.
There was a third option I was slow to pursue. It was the one that intrigued me most, but it seemed too big and bold a move. Too giant a leap. So for months, I shied away from what I most wanted to try: working abroad.
Working abroad was an ambition my wife and I had talked about for years. We got the idea while visiting Australia, but the place we most wanted to live was New Zealand. That laid-back country offers everything a nature lover and amateur photographer like me could wish for; mountains, oceans, glaciers, Maori culture, fjords, unique wildlife, tropical islands, you name it. But the health care organization I worked in had repeatedly denied my request to take a sabbatical. Well, they no longer had any say in the issue. The only person keeping me from pursuing working overseas was me. So I leaped. And I landed in a job.
It still seems strange that I stepped into the hospital on Day One as a Senior Medical Officer. Still, more than the title, I like all the privileges, perks, and pay commensurate with my "Senior" status. I was pleased to learn that although I had never worked in New Zealand, they afforded me all the benefits of my 20-plus years as a practicing general surgeon. Whereas I had been afraid that when I took a new full-time position, I would have to start at the bottom, I am getting better working conditions, holidays, vacation time, and other benefits than I would ever have received in the U.S. And for a father whose three teens will soon be leaving home, that time is far more valuable to me than what I am giving up in income. In short, I got exactly the deal I had tried to negotiate for in the contract I never signed.
Leaving my job was vertiginous. The months after felt like falling out of control. But the faith I put in myself paid off. I looked into the face of my fear and didn't shy away. Instead, I chose to step forward into growth rather than backward into safety. My fear had let me know which way I needed to go. In both bungee jumping and my career, I chose to move forward toward what scared me most, and that choice has made all the difference.
Will working in New Zealand prove to be a panacea or a blunder? It's too soon to tell, but I suspect it will be a little of both, like most of life. But I know one thing; I would have been a lesser person if I had allowed my fear to frighten me into signing that contract. So no matter how this all turns out, I can be sure that I will be a stronger person in the future. That is enough for me.
Oh, and if I hadn't come to New Zealand, I would have never jumped from the Kawarau Bridge, and that would have been a shame.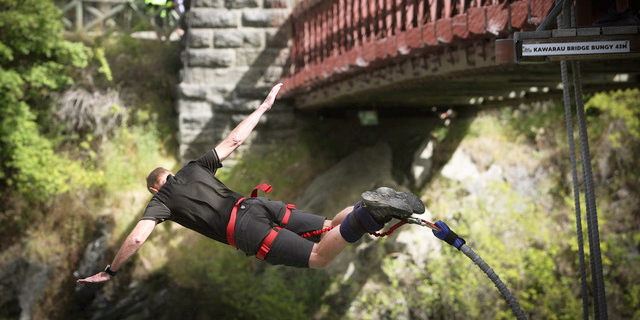 What's a leap of faith you've made in life? Share your fallings, failings, and landings in the comments.
Charles Black is a general surgeon, father, landscape photographer, writer, outdoorsman, and fireside philosopher. Catch up with him at ChuckBPhilosophy.com where he writes about life, the universe and everything. You can also view his photos on ChuckBlackPhotography.com. Dr. Black was a 2019–2020 Doximity Op-Med Fellow, a 2020–2021 Doximity Op-Med Fellow, and is currently a 2021–2022 Doximity Op-Med Fellow. Read more about his life in New Zealand here and here.
Lead image by Denis Novikov / Getty // Body image provided by Charles Black, MD
All opinions published on Op-Med are the author's and do not reflect the official position of Doximity or its editors. Op-Med is a safe space for free expression and diverse perspectives. For more information, or to submit your own opinion, please see our
submission guidelines
or email
opmed@doximity.com
.