Op-Med is a collection of original articles contributed by Doximity members.
Efficient workflows, EHR issues, and best patient care practices are topics that internists care most about. Just in 2019, internist authors on Op-Med have written the most on these three topics: health systems, patient-physician relationships, and clinician wellness.
What does this mean for the modern internist? Many internists are witnessing firsthand what is and isn't working in patient care — and they are voicing their concerns and experiences.
Topics Written by Internal Medicine Physicians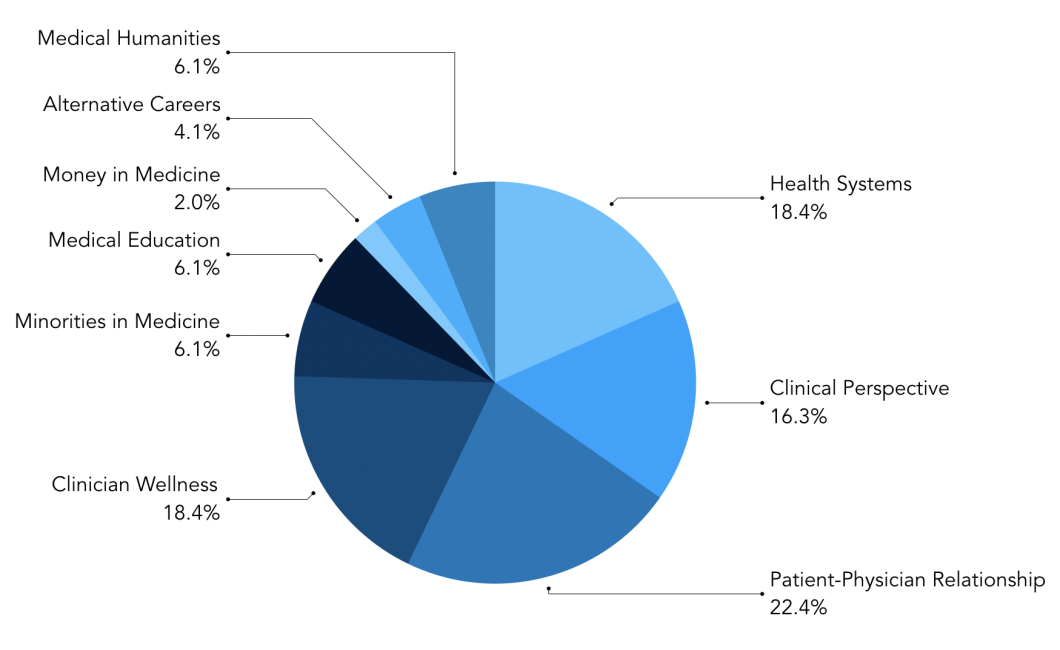 These statistics encompass Op-Med articles published within 2019, written by Doximity physicians (MD and DO) who identified themselves as specializing in Internal Medicine on their Doximity profiles as of August 30, 2019.
Below we've listed some articles internists have published this year that have made lasting impressions on Doximity's Op-Med readers:
Patient-Physician Relationships
Dr. Akua Ampada reflects upon a situation in which a patient's anger and frustration call into question her competence and ability as a physician. She offers this sage advice for how other internal medicine physicians can cope: "Making a conscious effort to not internalize negativity from a non-pleasant encounter is imperative to your own psyche and self-esteem."
Clinician Wellness
The 'Invincible, Superhuman Doctor': Why Wellness and Resiliency Programs Get It Wrong
Dr. Austin Perlmutter draws attention to the systemic issues that contribute to clinician burnout and depression. He believes that true change will only happen when the idea of the "invincible, superhuman doctor" is no longer reinforced. What will it take to change this culture?
Health Systems
I Know How to Fix American Health Care
Internists may hold the answers our country needs to fix our complex health system. Dr. Sean Rogers proposes a solution for universal health care in the U.S. that upholds individual choice and free-market mechanisms. What are your thoughts on his "Universal Savings Account?"
We Know What Internists Write About, What Are They Reading?
While Clinician Wellness and Health Systems hold similar rank as two of the top three most-read themes, physician readership on financial pressures, a topic often too taboo for discussion on the wards, is the most read-topic.
Dr. Nana Korsah's "Don't Quit Your Medical Career Without Reading This" is one of the most read Op-Med articles in 2019. With a burgeoning crisis in the number of internists available, and fewer doctors choosing primary care, she encourages doctors to "search for a way to practice medicine on your own terms."
Another article with much engagement is, "To Interns, from a Residency Program Director." In this intimate letter, Dr. Cinnamon Bradley shares how she herself became a patient during residency and pleads for new residents to ask for help when they need it. Burnout affects both clinicians and patients. With patient caseloads for internists commonly exceeding 3,000 patients, it is no wonder that patient-physician relationships are one of the top topics internists are focusing on in their writing.
It is evident that many internists are struggling, oftentimes both personally and professionally. This year on Op-Med, internists offered one another solutions for change that can impact the individual and the specialty as a whole. It will take a variety of solutions to move the needle on systemic issues such as burnout, which nearly half of all internists report experiencing.
As Op-Med continues to strive to serve as a trusted platform for internists to share their perspectives with one another, we look forward to seeing where the state of internal medicine heads in 2020. What topics are you interested in reading?
All opinions published on Op-Med are the author's and do not reflect the official position of Doximity or its editors. Op-Med is a safe space for free expression and diverse perspectives. For more information, or to submit your own opinion, please see our
submission guidelines
or email
opmed@doximity.com
.