Op-Med is a collection of original articles contributed by Doximity members.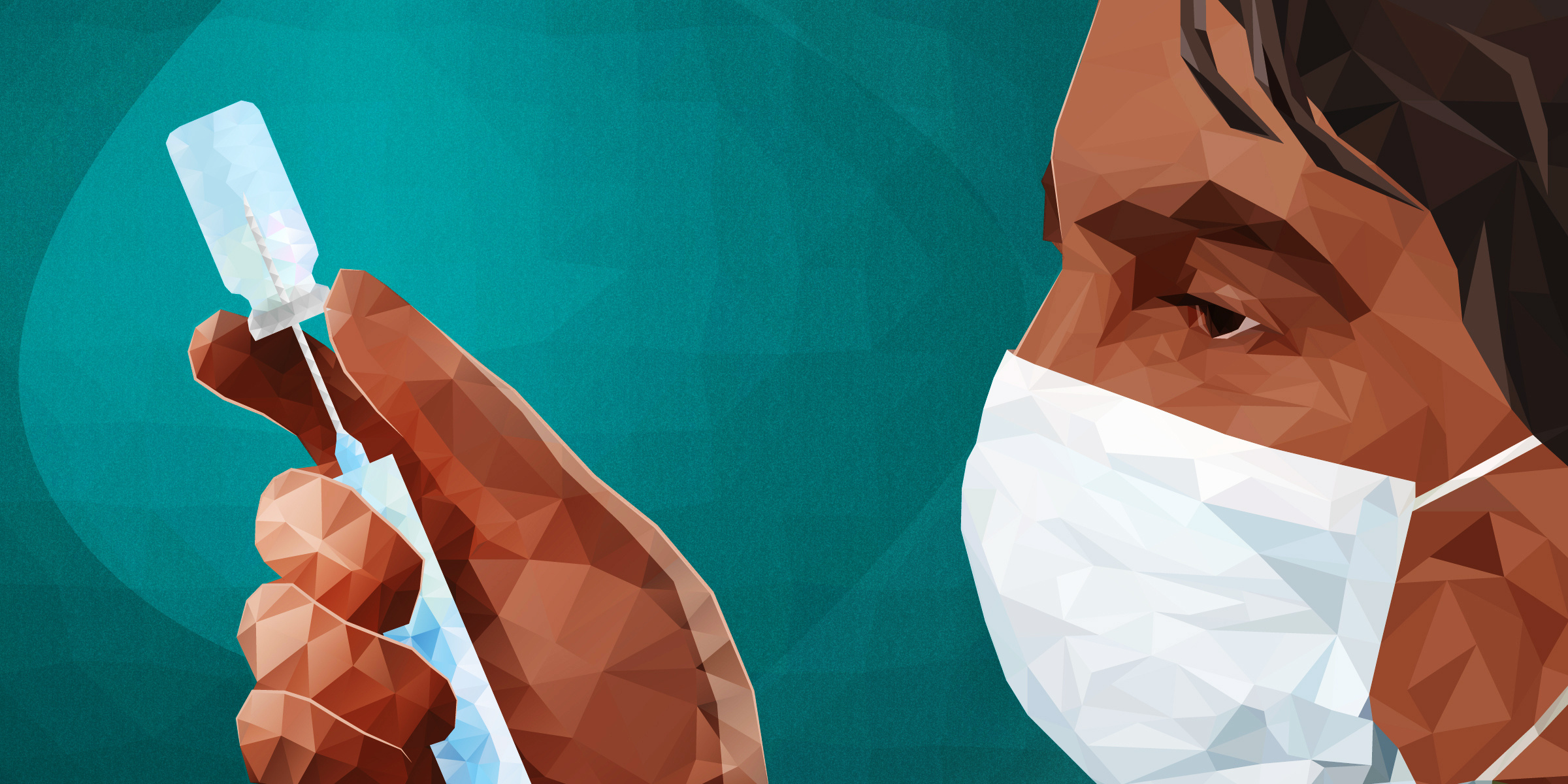 On September 21, 2020, the CDC answered questions for Doximity members on how the CDC is combating the flu during the COVID-19 pandemic, influenza recommendations, and clinician strategies to encourage patients to get vaccinated. We spoke with Dr. Robert Redfield, MD, director of the CDC and administrator of the Agency for Toxic Substances and Disease Registry, who recently co-authored an article on "Addressing Influenza Vaccination Disparities During the COVID-19 Pandemic" (August, 2020).
Read what Dr. Redfield had to say about influenza recommendations and COVID-19.
Doximity: Independent of COVID-19, how severe is this season's flu virus expected to be?
Robert Redfield, MD: Every flu season is different, but the flu is always a potentially serious disease. Millions of people get the flu every year, and some are at risk of developing serious complications. Hundreds of thousands of people are hospitalized, and thousands to tens of thousands of people die from flu-related causes annually.
A recent CDC report found that flu circulation in the U.S. was at historically low levels from mid-May to early August. It also found that only 51 positive flu test results were confirmed in the southern hemisphere countries of Australia, Chile, and South Africa during April to July, compared to more than 24,500 confirmed tests during the same timeframe in 2017-2019.
These findings suggest that actions such as school closures, wearing a mask, and staying six feet apart from others could reduce the impact of flu this fall and winter in the U.S., if widely practiced. However, it's impossible to say with certainty what will happen during the upcoming flu season, making it important to prepare for both flu and COVID-19.
A seasonal flu vaccine is the best way to help protect against flu. It reduces the risk of flu illnesses; may make flu illness less severe; and reduces the risk of flu-related death.
Dox: Given that the southern hemisphere is currently in the midst of flu season, has the CDC seen any emerging data that might suggest that co-occurrence of influenza would worsen the course of COVID-19?
RR: It is not clear what impact the ongoing COVID-19 pandemic will have on the flu season in the U.S. If there is COVID-19 and flu activity at the same time this fall, it could place a tremendous burden on the health care system and result in many illnesses, hospitalizations, and deaths.
However, we could also have an extremely mild flu season. I am encouraged by the recent CDC analysis that found historically low levels of flu in the U.S. earlier this year, and extremely low levels of flu in parts of the southern hemisphere — likely due to mitigation steps like face masks, social distancing, and hand-washing. I am confident that Americans will continue to take these mitigation steps seriously, and I am hopeful they will get vaccinated for flu as we move into the fall and winter.
Dox: What is the CDC doing to increase flu vaccination in underserved areas?
RR: This year, more than ever, it's important to get a flu vaccine. It's likely that COVID-19 and influenza will be circulating at the same time this fall and winter, and we know both viruses can disproportionately impact certain populations. During the COVID-19 pandemic, reducing the overall burden of respiratory illnesses is important to protect vulnerable populations at risk for severe illness, the health care system, and other critical infrastructure.
Health care providers should encourage flu vaccination at any opportunity to everyone six months and older, including essential workers and people at increased risk for serious flu complications. Clinicians should also ensure that people at increased risk for severe illness from COVID-19, which disproportionately affect members of certain racial/ethnic minority groups, receive their flu vaccine.
This season, the CDC has been working with our state, tribal, local, and territorial partners to make flu vaccines more accessible to more people. Earlier this year we provided an additional $140 million in operational funding to states to plan and implement flu vaccine programs with a specific focus on priority groups, including African American and Hispanic/Latino populations.
The CDC has also purchased more than 18 million doses of flu vaccination for uninsured children and 9.8 million doses for uninsured adults — an increase of 2 million and 9.3 million doses for each group respectively.
And just recently, the U.S. Department of Health and Human Services also authorized state-licensed pharmacists, subject to several requirements, to order and administer vaccines for children between the ages of three and 18. This is an important step that will further expand access to childhood immunizations, including the flu vaccine.
Dox: What specific interventions does the CDC recommend to overcome the traditional hesitancy and fear of the medical system that minority communities have?
RR: Vaccination is one of the most important scientific advancements of our time, but too many people leave it on the shelf. We know that flu vaccines have been shown to reduce the risk of flu illness, hospitalization, and death, yet only about 40% of African American adults and Hispanic/Latino adults received a flu vaccination in recent years.
These low levels are particularly concerning given that some members of racial and ethnic minority communities have also been put at increased risk for severe outcomes from COVID-19. And though experts are still studying how commonly it occurs, a person can have flu and COVID-19 at the same time.
The additional resources we are investing in flu vaccination efforts are crucial to continue building trust among racial and ethnic minority communities, and in making flu vaccines more accessible.
Eliminating barriers, such as cost, and having people who are closer to the community deliver the vaccine can help to improve vaccination. Ultimately, communities must have faith that the flu vaccine is safe and effective.
Dox: What are the differences between the nasal spray versus shot?
RR: Many vaccine options are available. The most important thing is to offer flu vaccination for all people six months and older using any licensed vaccine that is appropriate for age and health status.
A flu shot is given with a needle, usually in the arm. Life-threatening allergic reactions to flu shots are very rare, but can occur among people who are allergic to egg protein or other ingredients in the vaccine.
The nasal spray flu vaccine is approved for use in healthy people ages two to 49. Women who are pregnant, people with weakened immune systems, and people with certain other medical conditions should not receive the nasal spray. See Prevention and Control of Seasonal Influenza with Vaccines: Recommendations of the Advisory Committee on Immunization Practices — United States, 2020—21 Influenza Season for a list of contraindications and precautions for the nasal spray vaccine.
Dox: To maximize effectiveness against the flu, when should people consider getting vaccinated?
RR: Vaccination is recommended by the end of October. Children ages six months through eight years who require two doses should receive their first dose as soon as possible so the second dose can be received by the end of October.
However, people who have not received a flu vaccination by the end of October should still consider doing so. The flu typically peaks between December and February, and flu activity can last as late as May. Flu vaccination should continue to be offered as long as flu viruses are circulating.
Dox: Is there a specific percentage of the population the CDC is looking to cover with this year's flu vaccine?
RR: I hope that everyone ages six months and older will be vaccinated for flu this season, but reaching at least 65% of Americans with flu vaccination will help tremendously.
Dox: What are some recommendations for clinicians about how to have the flu shot talk with patients, especially in the midst of this pandemic?
RR: Health care providers play a vital role in flu vaccination — and research tells us that adults are more likely to get a flu vaccine if their doctor or health care professional recommends it. While most adults believe vaccines are important, a reminder from their clinician can mean the difference between getting a flu vaccine and putting it off.
The CDC has developed a variety of tools to help clinicians make a strong recommendation for flu vaccination, including ways to help providers effectively discuss flu vaccination with their patients. The CDC also offers resources to help providers prepare their practice for flu season, as well as information for patients.
Dox: How is the CDC addressing myths and misinformation about the flu vaccination (or all vaccinations) especially during this pandemic?
RR: Stopping myths is one of three strategic priorities that comprise CDC's Vaccinate with Confidence framework. Misleading information can cause vaccination coverage to fall, and increase the risk for outbreaks of vaccine-preventable diseases.
To stop misinformation from eroding public trust in vaccines, the CDC is working with local partners and trusted messengers to improve confidence in vaccines among at-risk groups; establishing partnerships to contain the spread of misinformation; and reaching stakeholders to provide clear information about the role that vaccination plays in protecting the public.
Dox: What do you see as the biggest hurdle in increasing the number of those vaccinated for flu this year and how is the CDC working to lessen that hurdle?
RR: I want people to know there are safe ways to get a flu vaccine, even if COVID-19 is spreading in their community. The pandemic has caused clinicians to change their operations, but maintaining or resuming immunization services is essential to protecting people and communities from preventable diseases and outbreaks.
If they aren't doing so already, I would encourage doctors, pharmacists, and health departments to follow the CDC's vaccination pandemic guidance. Any vaccination location following the CDC's guidance should be a safe place to administer a flu vaccine.
This interview was conducted by Erin Mercer, MBA, MA, Clinical Content Editor and Liz Jung, MBA, Business Development Manager.
Illustration Collage: April Brust / GettyImages
All opinions published on Op-Med are the author's and do not reflect the official position of Doximity or its editors. Op-Med is a safe space for free expression and diverse perspectives. For more information, or to submit your own opinion, please see our
submission guidelines
or email
opmed@doximity.com
.