Op-Med is a collection of original articles contributed by Doximity members.
More than 60% of clinicians believe another pandemic as deadly as COVID-19 is likely to surface within the next 10 years, according to a poll on the Doximity network.
That's a more pessimistic view than recent research, which now estimates a "high probability" of observing another pandemic on the scale of COVID-19 — ranging from a 38% chance in one's lifetime to as high as a 57% chance in the next 25 years, based on modeling projections.
Pandemics have been a recurring public health concern for millenia. Historical pandemic records date as far back as 430 B.C. More recently, the 1918 influenza and COVID-19 pandemics have had devastating global consequences.
Despite the impending threat of future incursions, a survey of hundreds of U.S. public health departments in all 50 states showed that they appear even less equipped to confront a pandemic today than they were in early 2020. Driving factors include an exodus of personnel and new legislation restricting the authority of state and local health officials.
Poll Findings
The latest Doximity poll, conducted in October 2021, reinforces this concern across a broad community of health care professionals. Of the more than 4,000 physicians, NPs, CRNAs, PAs, and pharmacists who responded to the poll, most agree another pandemic will likely emerge in the coming decade: Collectively, 60% consider it likely, 23% believe it is possible but are unsure, and 17% say it is unlikely.
Outlook remains roughly the same across clinical professions. A slightly greater proportion of NPs and CRNAs expect another pandemic at 68%, compared with about 60% each for physicians, PAs, and pharmacists.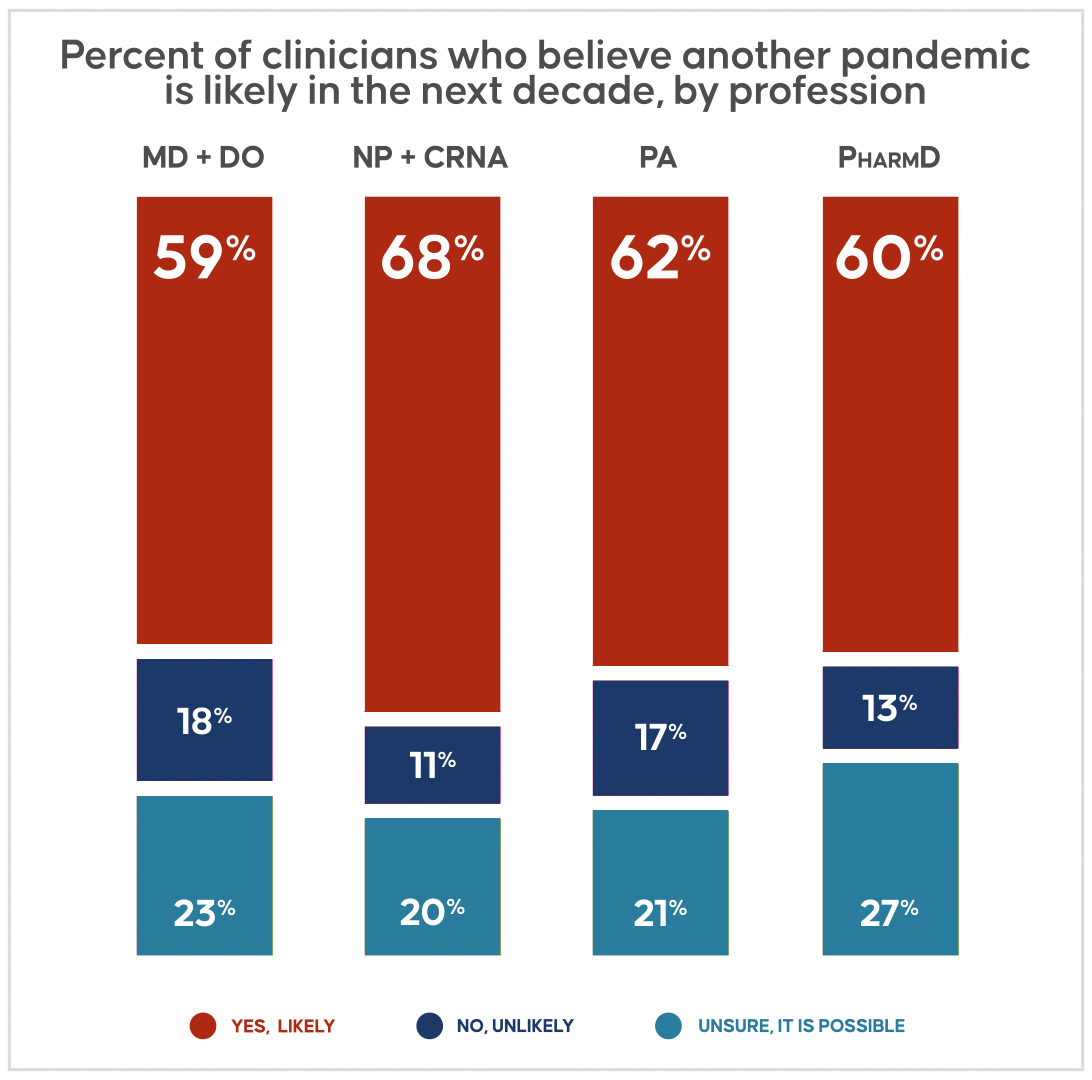 Despite considerable variation in COVID-19 exposure throughout the country, approximately 60% of clinicians across all U.S. regions believe another pandemic just as deadly as COVID-19 is likely.
Age also appears to have an influence on clinician perception. Health care professionals increasingly predict another pandemic with older age (40% of clinicians in their 20s, 49% in their 30s, 55% in their 40s, 64% in their 50s, 67% in their 60s, and 75% in their 70s or older). For physicians, a similar tendency occurs with career stage: Only 44% of physicians in the early stage of their career envision another pandemic, compared with 46% in the mid stage, 58% in the late stage, and 72% in retirement.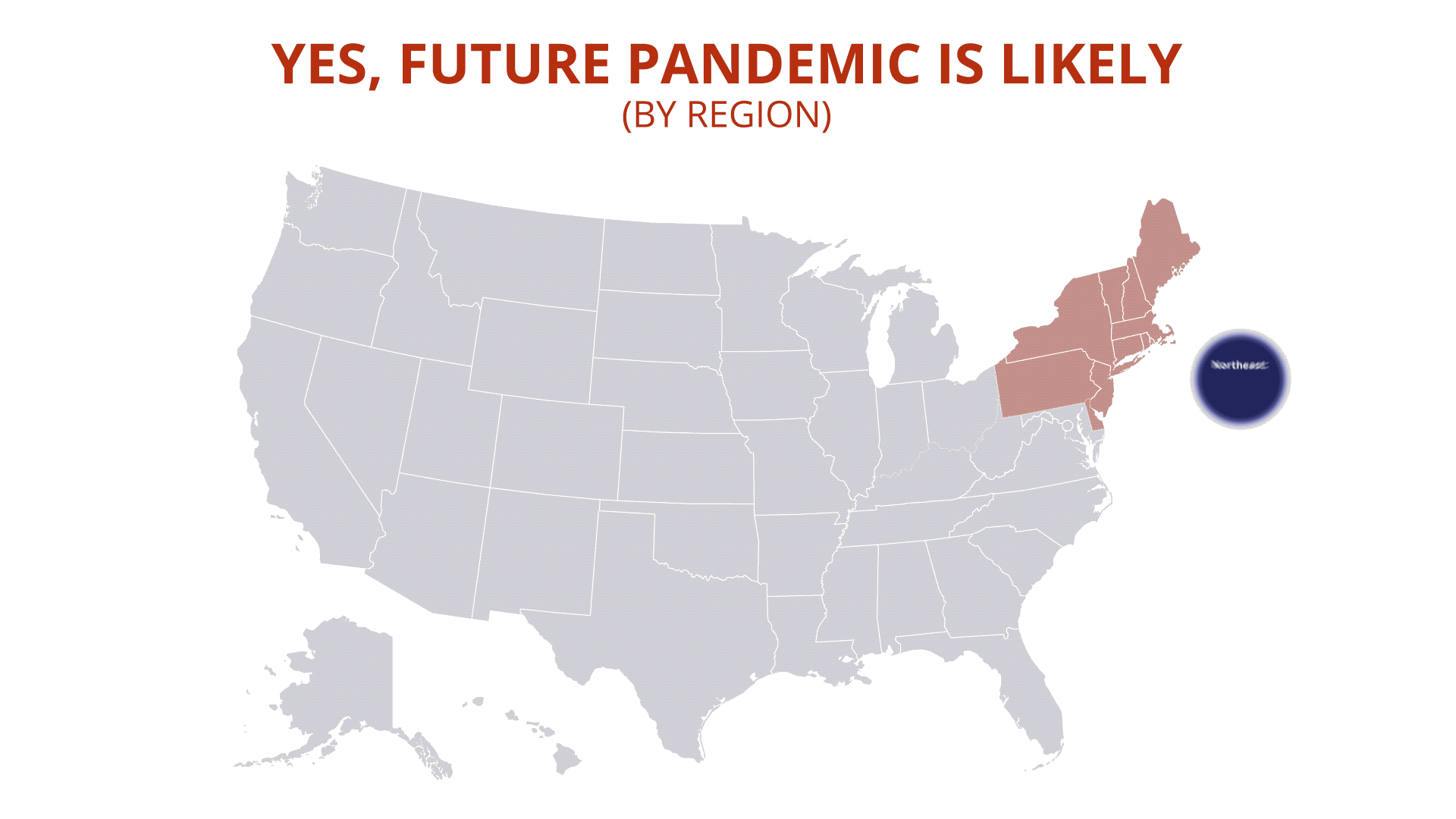 The three states with the greatest proportion of clinicians who anticipate another pandemic (about 70%) are Idaho, Oregon, and Kansas. Conversely, Connecticut, Alabama, and Arkansas have the lowest proportion of clinicians in agreement with another pandemic at about 50%. A few outliers aside, the state-to-state percentages are comparable even amid wide differences in COVID-19 caseloads and death rates.
For example, in high population states with large cumulative COVID-19 case counts (e.g., California and Texas), as well as in low population states with relatively low case counts (e.g., Alaska and Maine), close to the same percentage of clinicians expect another pandemic, at 60% to 70%. The pattern also applies when comparing many states with high versus low COVID-19 death rates, such as New York and Utah.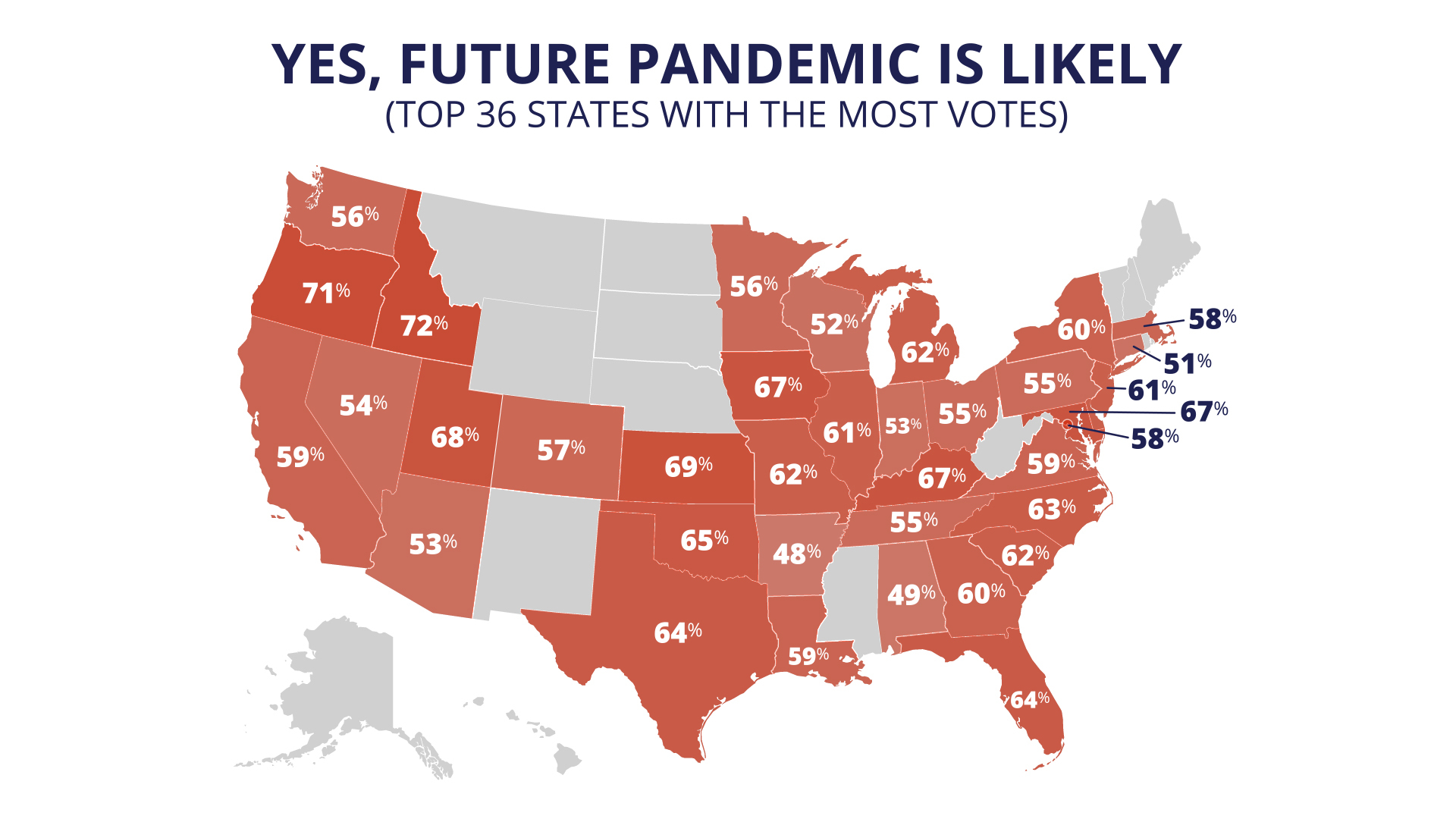 Among physicians in particular, however, there is some notable divergence based on medical specialty. The specialties most convinced of another pandemic are neonatology/perinatology (79%), pathology (74%), radiation oncology (72%), and obstetrics/gynecology (70%). In contrast, specialties more split on the issue are orthopaedic surgery (52%), ENT (50%), neurology (47%), and ophthalmology (46%). And only 45% of medical residents are certain they will face another pandemic in the next decade.
Of note, specialties that may have encountered COVID-19 cases with relatively high frequency trend toward the middle. Just under 62% of infectious disease specialists foresee another pandemic on the horizon, while 61% of internists, 59% of pulmonologists, and 57% of emergency physicians do.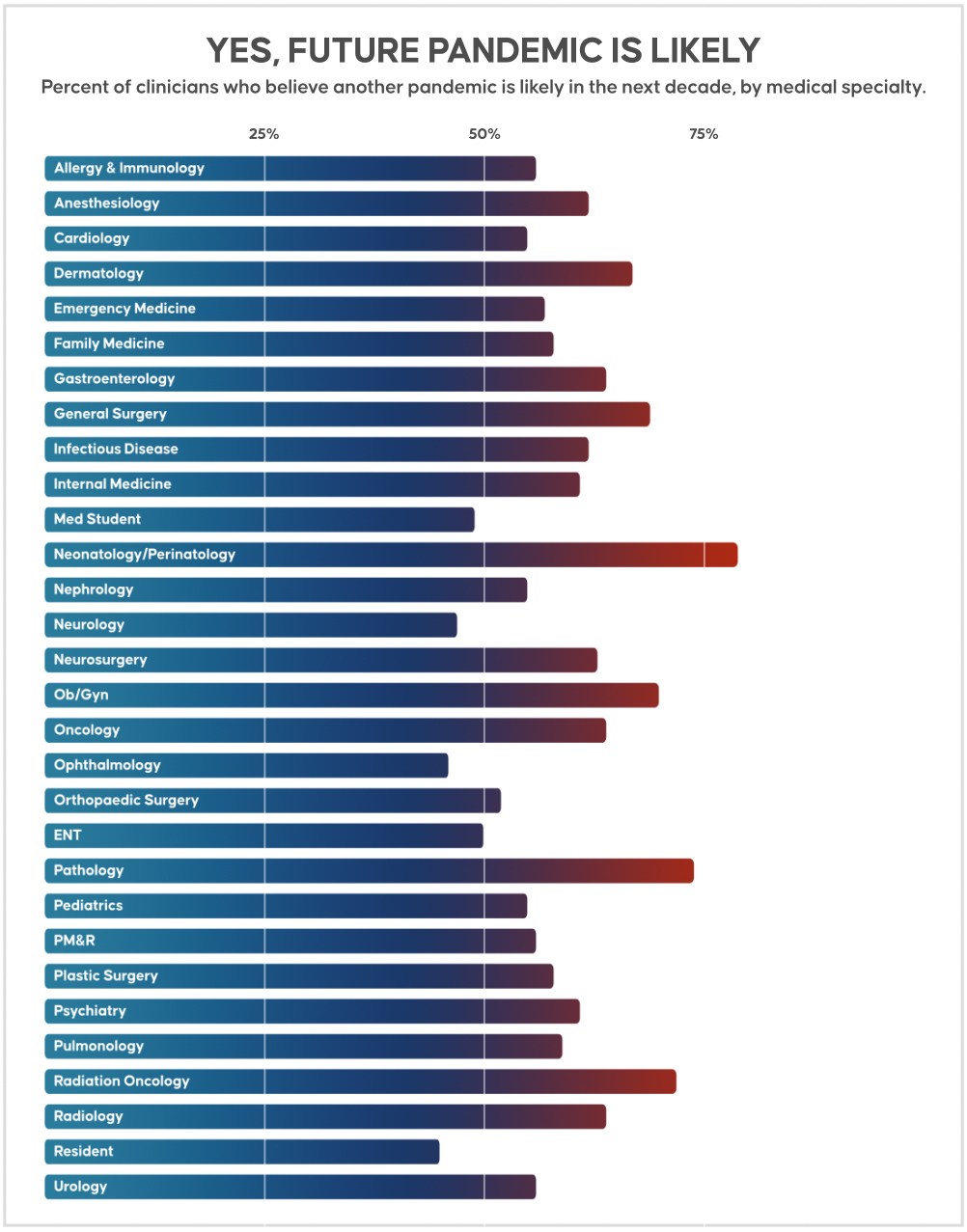 'Need to Respond'
Regardless of if or when another pandemic transpires, the medical community has rallied behind efforts to prepare for the possibility.
Global leaders across 194 nations have called for an international treaty on pandemic prevention and preparedness, invoking a special session of the World Health Assembly on November 29 to map out a plan for averting and responding to future health crises. And in the U.S., the current administration has laid the groundwork for a multibillion-dollar biosecurity plan addressing vaccine infrastructure, treatment, diagnostics, and an early warning system for future pandemics.
"As we begin to contemplate a successful end to the COVID-19 pandemic, we must not shift back into complacency," NIH Director Dr. Francis Collins said in an interview.
Clinicians, scientists, government agencies, and industry members have collaborated extensively in unprecedented ways since the onset of COVID-19. Experts have underscored the importance of carrying forward these partnerships well after the ongoing pandemic subsides.
"We believe it's time for world leaders to heed warning signs, abandon half-measures, and commit to the global system we need to respond to the ever-present danger of emerging infectious diseases," Dr. Christopher Elias, clinical professor of global health at the University of Washington, wrote in a NEJM perspective. "We simply cannot afford the alternative."
What are your thoughts on future pandemics? Share your predictions in the comments below.
Visualizations by Dox Digital
Feature image by stellalevi / Getty
All opinions published on Op-Med are the author's and do not reflect the official position of Doximity or its editors. Op-Med is a safe space for free expression and diverse perspectives. For more information, or to submit your own opinion, please see our
submission guidelines
or email
opmed@doximity.com
.