Op-Med is a collection of original articles contributed by Doximity members.
Nearly three-quarters of physicians do not know the cost of common tests, treatments, or procedures in their specialty, according to a recent poll on the Doximity network.
The finding speaks to longstanding concerns over pricing in medicine, which for years has been shrouded in opacity. Lack of medical cost transparency has left physicians hamstrung and unable to provide much guidance for patients left to navigate occasionally exorbitant bills well after receiving treatment.
"Physicians don't set pricing for insurance, and we can't determine the price of a drug or a new technology, so it's easy to feel powerless when it comes to impacting costs," Dr. Robert Glasgow, interim chair for the department of surgery at the University of Utah, wrote in a 2018 report investigating health care costs.
For any other market, communication between buyers and sellers plays a pivotal role in price setting. Sellers present the cost of goods and services to buyers for consideration — common practice in other health care fields such as dentistry and optometry. But in medicine, patients in the U.S. are rarely made aware of costs upfront, and many physicians are unable to even approximate charges for the treatments they recommend and perform.
"The costs of everything down to hospital bed sheets is known, but for whatever reason, it's not made available to the physician or the patient," a Pennsylvania-based physician said. "It's like walking into a grocery store without price tags. Except the end result is a very big price tag."
How Much?
Among the 2,489 physicians who responded to the Doximity poll, 72% are "somewhat" (30.2%) or "very uncertain" (41.4%) how much the tests, treatments, and procedures that they regularly recommend or perform cost their patients. And among the small percentage of physicians (28%) who have some knowledge of common medical costs, most are only "somewhat" (20%) certain of those costs.
The medical specialties expressing the greatest price uncertainty are neurology, general surgery, and anesthesiology, each exceeding 80% for "uncertain" votes. Pediatricians (79%) and pediatric subspecialists (78%), especially in emergency medicine, hematology, and gastroenterology, also tend to be unfamiliar with medical costs. Ophthalmology is the only specialty in which the majority of physicians (54%) are confident about costs, possibly due to its close working relationship with optometry, a nonmedical field.
Collectively, 74% of PCPs are uncertain of costs, compared with 71% of specialists and 66% of surgeons. Greater uncertainty in primary care may in part stem from the broad nature of their work. In addition, as most physicians are not properly trained to discuss cost of care, discussing medical costs in primary care could lead to uncomfortable conversations in specialties that rely on long-term relationships. PCPs also have pointed out the potential conflict between being cost-conscious and prioritizing the best patient outcomes.
Conversely, subspecialization may allow specialists and surgeons to dedicate their time to a more narrow suite of tests and procedures, thus giving them more opportunities to become familiar with associated costs.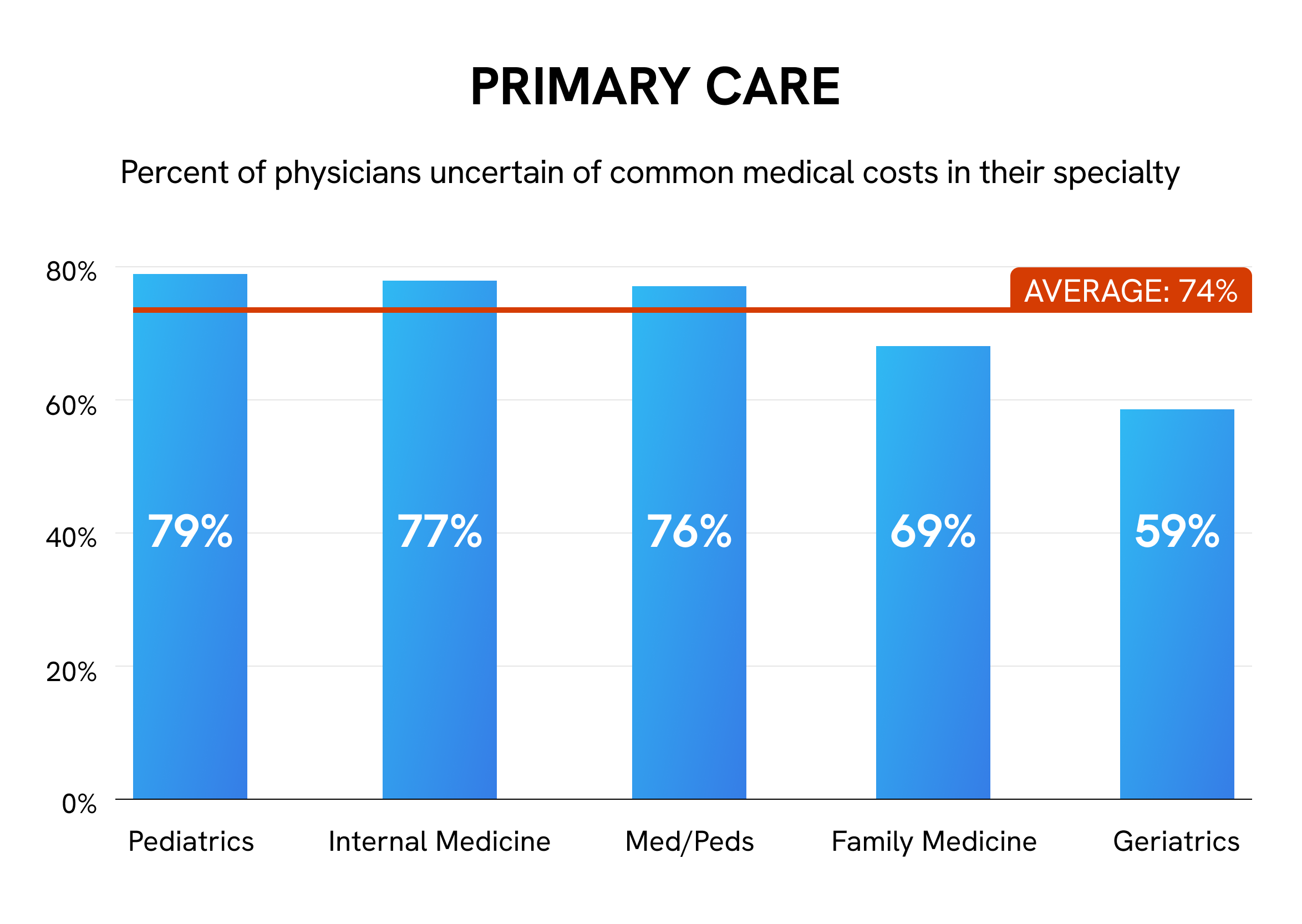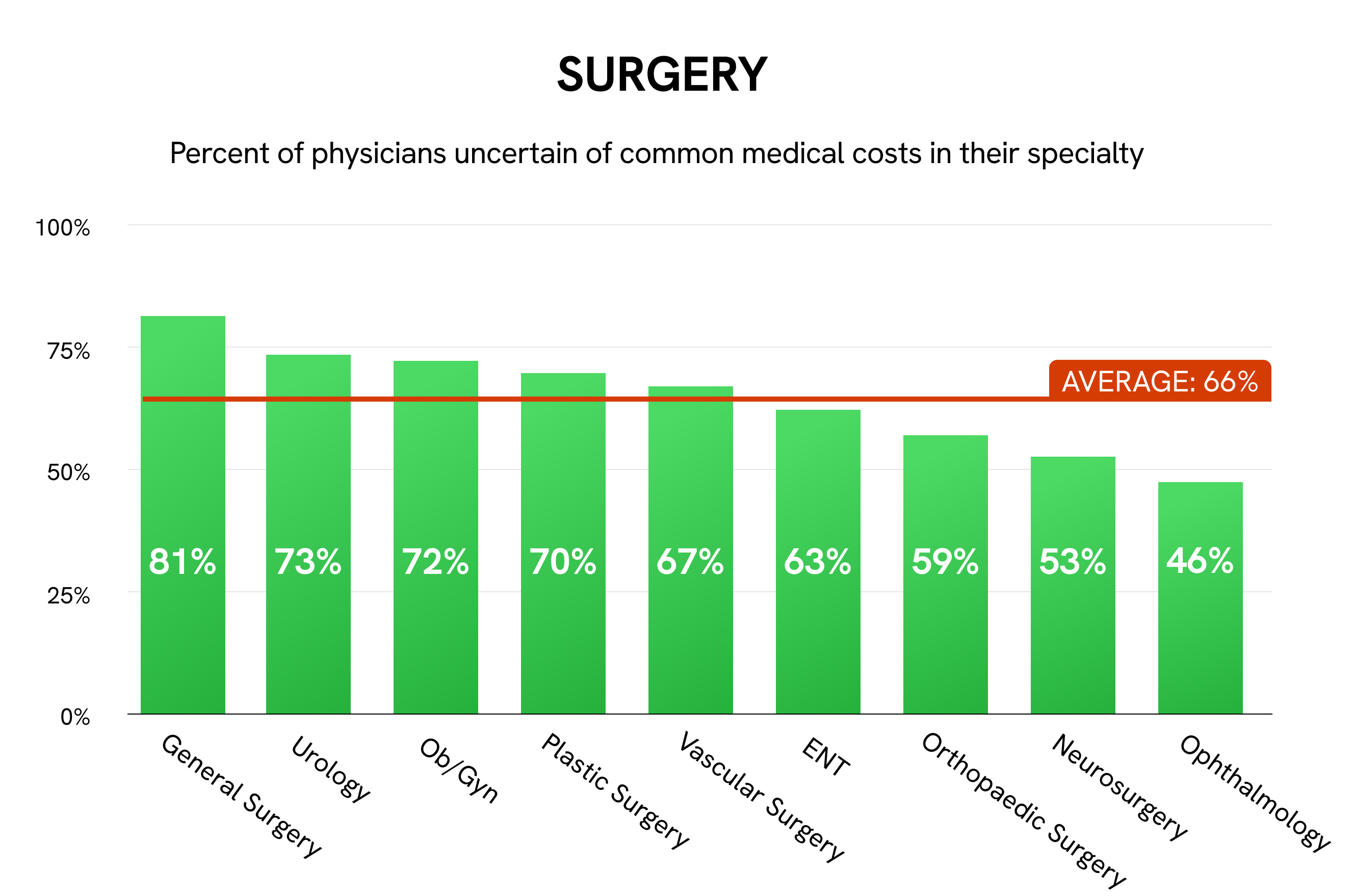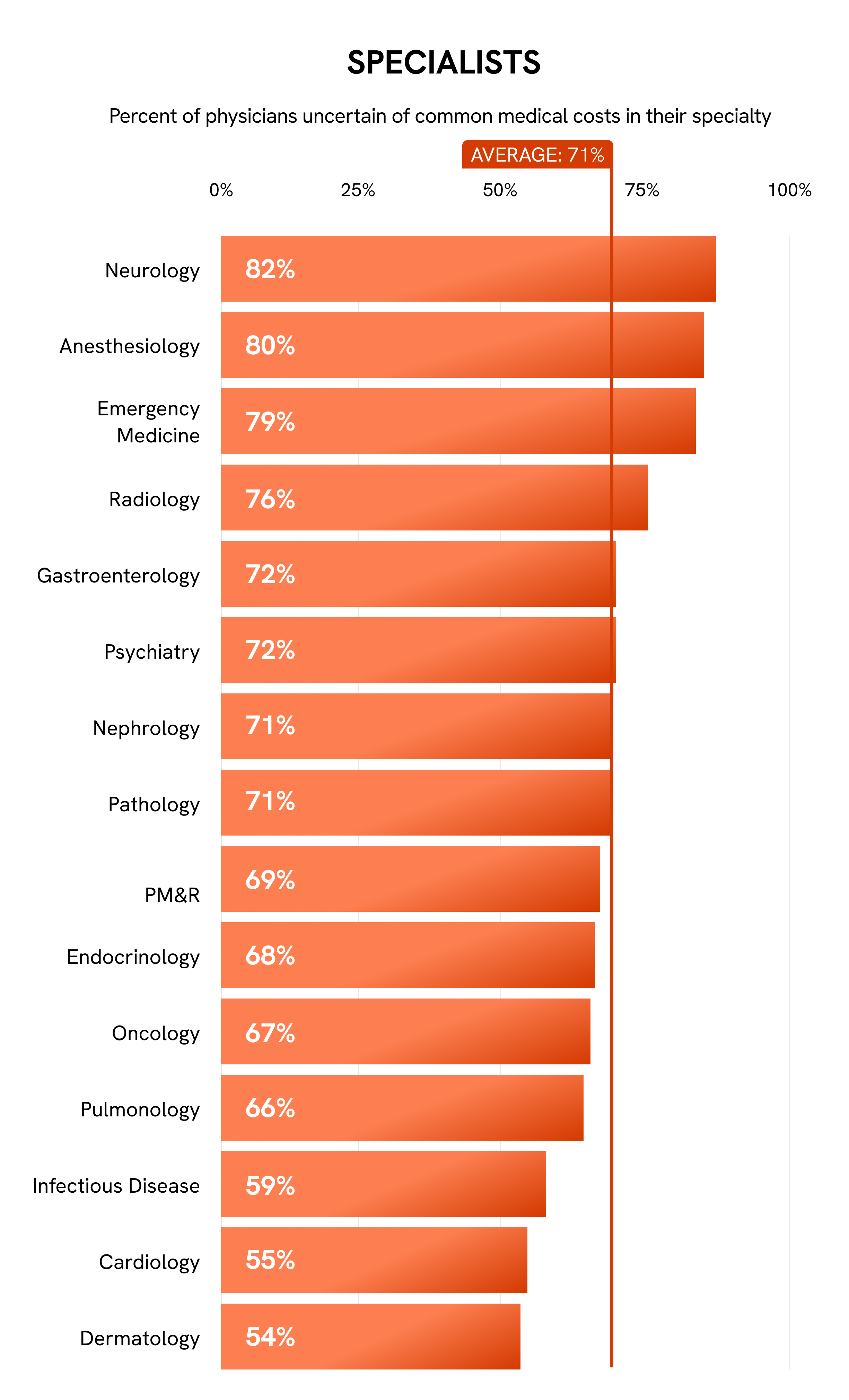 Knowledge of medical costs also appears to be associated with physician age. Younger physicians are most uncertain about medical costs — 83% of those under 29 years and 84% of those 30 to 39 years — with uncertainty generally decreasing with age. Only 60% of physicians in their 60s are uncertain of medical costs, though the majority of physicians in every age group are uncertain.
The trend coincides with physicians' stage of practice as well. Medical students (90%), residents (85%), and fellows (90%) are considerably more uncertain than physicians in later stages of their career: 73% of physicians 5-10 years out of training are uncertain, and only 62% of those more than 10 years out of training are uncertain.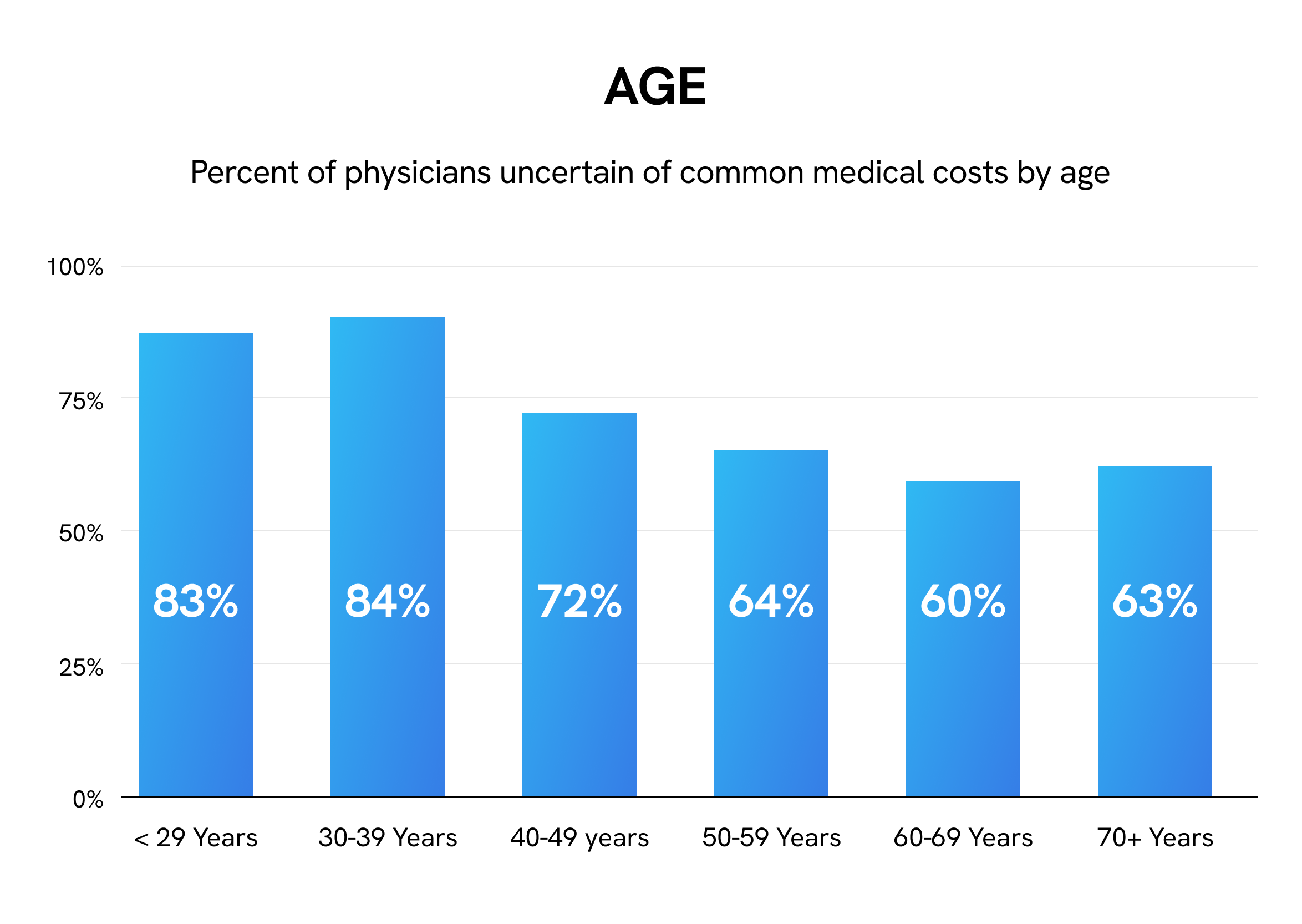 A Waking Dream
Recent years have seen several bipartisan legislative efforts to help address concerns over high and obscure medical costs. CMS issued a final rule on price transparency requiring hospitals to make the price of common services publicly available, effective January 1, 2021. The agency issued a parallel rule for health plans and insurers to take effect on January 1, 2022, though enforcement has been delayed until July.
Despite these laws, compliance by most hospitals and insurers has made little headway. A February 2022 report evaluating 1,000 hospitals revealed that only 14% were complying. A separate review found that hundreds of hospitals had masked pricing data from appearing in online search results. CMS has yet to issue a single fine for noncompliance.
Even with this shift toward price transparency, few health care systems provide physicians with the necessary tools to leverage the information.
"When I'm seeing patients, it's hard to know the amount of money they would have to pay for the care I am recommending because I don't have a way to know the price of the service or medication, and I have no way of knowing what their insurance coverage requires," said Dr. Alison Galbraith, associate professor in the department of population medicine at Harvard Medical School.
To that end, several groups have made early moves to make prices more accessible to patients and physicians. Hospitals have explored patient navigators as a way to help lower patient expenses, especially for out-of-pocket costs, while also increasing hospital revenue. Many hospitals have also set up online cost estimators, though studies have suggested low uptake and minimal benefit in their current design.
"There has been a lot done to provide price information," Dr. Galbraith said. "But for this price information to be truly useful to practicing clinicians, it would need to be integrated into clinical decision support at the point of care, when the clinician is deciding which test or medication to order … and account for the individual patient's insurance benefits."
Beyond clinical decision support tools, some in the medical community have advocated for value-based care as a delivery model that may help lower and control costs. Medical practices have also piloted retainer-based payment models, in which patients pay a flat fee directly to physicians.
The extent to which greater access to pricing will benefit patients and physicians is currently unclear. Will greater transparency ultimately lower costs, or will it instead hinder the intimacy of the physician-patient relationship? What is certain is that physicians, who in many ways bear the chief responsibility for discussing prices with patients, will need the support of patients, practices, and the medical community at large to make effective change.
Image by Wan Wei / Shutterstock
All opinions published on Op-Med are the author's and do not reflect the official position of Doximity or its editors. Op-Med is a safe space for free expression and diverse perspectives. For more information, or to submit your own opinion, please see our
submission guidelines
or email
opmed@doximity.com
.