Op-Med is a collection of original articles contributed by Doximity members.
Since 2016, Op-Med has been a place for Doximity members to share their stories — the good, the bad, the sad, the funny, and everything else that is experienced in medicine. In 2021, Op-Med published more than 1,200 essays from the wonderful writers among us who wear scrubs and white coats. The particularly impressive crop of stories this past year inspired the first-ever Op-Med Awards.
The Op-Med Awards highlight exceptional publications in six categories as voted on by the editorial staff: Community Favorite (the piece driving the most community engagement); Foreground Award (the best discussion of a new or existing problem in health care); Pathos Award (the most moving piece); Rising Star (the most promising voice among first-time contributors in 2021); Best Medical Humanities (the best creative work); Editor's Pick (the most impressive overall).
We hope you enjoy this year's winners.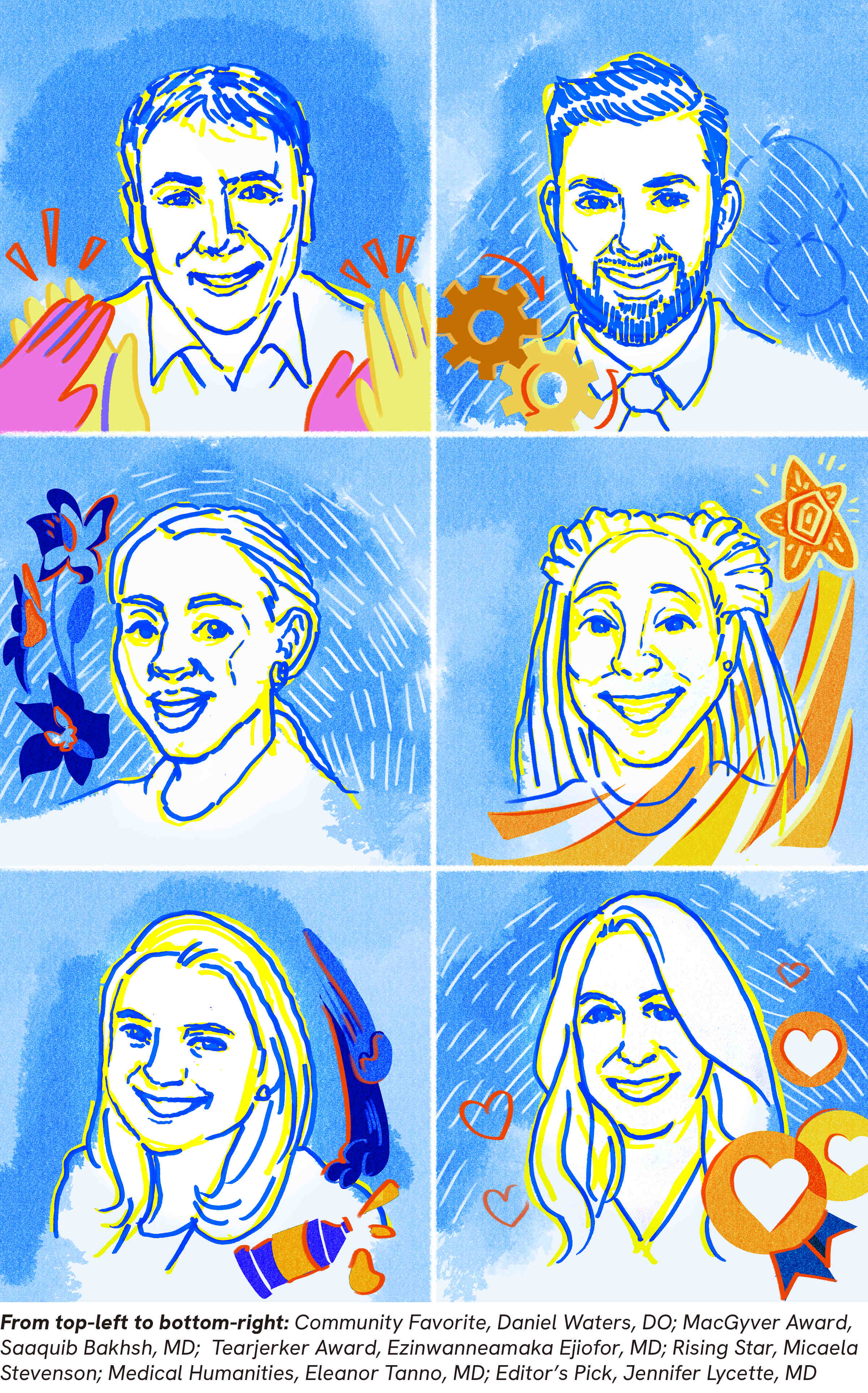 Nostalgic and enchanting, the most widely engaged Op-Med in 2021 is an elegiac lament for a beloved tool almost extinct in modern-day medicine: the written note. The nearly one thousand reactions and comments to Dr. Waters' essay collectively suggest that, though the written note may be outdated, it is certainly not forgotten.
It's now not a matter of if the written note's ship has sailed, but what might one day replace the "crackling intellectual current" and "direct connection" it once provided clinicians, if anything ever can.
Runner-up: I Retired After Being Punished for Speaking Out. Now I Can Speak My Mind by Arthur Lazarus, MD
There is a hidden curriculum in medicine. Precisely what this curriculum entails may vary by specialty, location, or profession, but for years it has delivered on its goal, educating new clinicians on the art of medicine and preparing them for real-world practice. But at what cost?
In tackling this question, Dr. Bakhsh walks a tightrope throughout his essay, both acknowledging the benefits of educational traditions in medicine and challenging the negativity they may be perpetuating. Whether this long-standing paradigm in medicine can be reformed remains to be seen. What Dr. Bakhsh's essay deftly ensures, however, is that its acceptance becomes more than an afterthought.
Runner-up: Why Wasn't I Taught How to Be a Manager in Medical School? by Charlotte Grinberg, MD
Caring for a terminally ill patient is one of the most challenging yet commonplace aspects of medicine. In this poignant and solemn essay, Dr. Ejiofor holds space for the conflicting emotions clinicians may experience when encountering patients close to death: hope, sorrow, bewilderment, and finally, distance — albeit only as a form of "emotional self-preservation." Framed as a eulogy to the first patient she lost, the essay ends with a promise to all dying patients: "Your doctors have hearts. We care about you."
Runner-up: The Things We Work Through When Maybe We Shouldn't by Jennifer Lycette, MD
Certain writers leave an indelible mark on those that read them. Micaela Stevenson, medical student, is one of those writers. In the two (yes, two!) essays we selected for the Rising Star Award, Stevenson tackles the subject of incomplete EMR documentation — and the potential for emotional damage that ensues — as well as that of racism and misogyny within the medical profession. Through her elegant narratives and keen moral vision, she shows us how diligence and empathy lead to better, more equitable medicine — for both patients and clinicians.
Runner-up: Danielle Ellis, MD for Don't Tell Your Dean What I Said
Medical Humanities is a section of Op-Med where Doximity members are encouraged to let their creativity roam throughout the hospital (or clinic, or wherever they practice medicine). We field paintings, sculptures, poetry, and more works of art. In our favorite Medical Humanities submission this year, Dr. Tanno uses the medium of watercolor painting to capture a peaceful post-birth moment of her husband and daughter, all while marveling at the miracle of delivery, when one splits into two, and two into three.
Runner-up: Regarding a Letter to a Dying Friend by Lawrence Hergott, MD
Our Editor's Pick this year was a memorable one, exploring a sensitive topic — a patient choosing not to listen to their doctor. Dr. Lycette, an oncologist, shares her thoughts and a patient experience in a gentle way, reminding her fellow clinicians that being right is not more important than connecting with the patient. Though about a patient living with cancer, Dr. Lycette's lesson is applicable to all who practice medicine. Our Editorial staff loved Dr. Lycette's essay, and we hope that you will, too.
Do you want the chance to see your name on this list? Submit to Op-Med by emailing opmed@doximity.com
Feature illustration by Diana Connolly; Spot illustration by April Brust
All opinions published on Op-Med are the author's and do not reflect the official position of Doximity or its editors. Op-Med is a safe space for free expression and diverse perspectives. For more information, or to submit your own opinion, please see our
submission guidelines
or email
opmed@doximity.com
.