Op-Med is a collection of original articles contributed by Doximity members.
Roughly 74% of clinicians acknowledged that they have been overworked during the COVID-19 pandemic, spurring movement toward a career change for many, according to a recent poll on the Doximity network.
The results signal growing unease in an industry that has shouldered increasing responsibility since the pandemic took hold last year. Clinicians across the health care landscape have repeatedly expressed concern about overextension due to factors as wide-ranging as economic hardship and administrative red tape.
"In many ways we are facing two parallel pandemics: one driven by a novel virus and the other by a deeply entrenched culture that is producing exhaustion, burnout, depression, and suicide," Bryant Adibe, MD, system vice president and chief wellness officer at Rush University System for Health, wrote in a JAMA article.
A survey released at the outset of the pandemic indicated that the COVID-19 crisis prompted nearly half of physicians to seriously rethink their practice. Months later, this sentiment appears mostly unchanged, despite the widespread distribution of COVID-19 vaccines and easing of restrictions throughout the U.S.
The latest Doximity poll, conducted in May 2021, confirmed this trend, even among a broader cohort of health care professionals including physicians, nurse practitioners, physician assistants, and pharmacists. Among the 2,937 clinicians who participated in the poll, nearly 74% of physicians, NPs, and PAs asserted that they were overworked, compared with 86% of pharmacists.

In the continental U.S., the percentage of overworked clinicians was 72% across all major regions, with the exception of the Northeast at 80%. The state with the highest percentage of overworked clinicians was Louisiana at 88%, followed by Connecticut (87%), Colorado (84%), Massachusetts (84%), Minnesota (83%), Virginia (81%), New Jersey (80%), Georgia (78%), New York (78%), and Pennsylvania (77%).
Among the 10 states with the largest proportion of overworked clinicians, half were located in the Northeast, potentially pointing to greater clinical burden in the region. The pattern may coincide with states in this region — e.g., New York, New Jersey, and Massachusetts — facing some of the steepest death rates due to COVID-19.
Percent of "overworked" clinicians in the 25 U.S. states with the most poll votes.
Percent of "overworked" clinicians, by U.S. region.
Percent of clinicians whose career plans were altered due to COVID-19, by U.S. region.
Physician workload varied considerably by medical specialty. Specialties reporting the greatest workload were pulmonology and infectious disease, both at 84%. The nature of the coronavirus sharply increased demand for experts in these domains throughout the course of the pandemic. This sudden increase in need and responsibility may have escalated their sense of being overworked.
In contrast, physicians least likely to feel overworked were otolaryngologists (50%), pediatricians (62%), and ophthalmologists (63%). Their tendency toward reduced workload aligns with the decline in visits to otolaryngology, pediatrics, and ophthalmology practices reported during the pandemic. Residents were also less likely to say they were overworked at 69%.
Percent of "overworked" physicians, by medical specialty.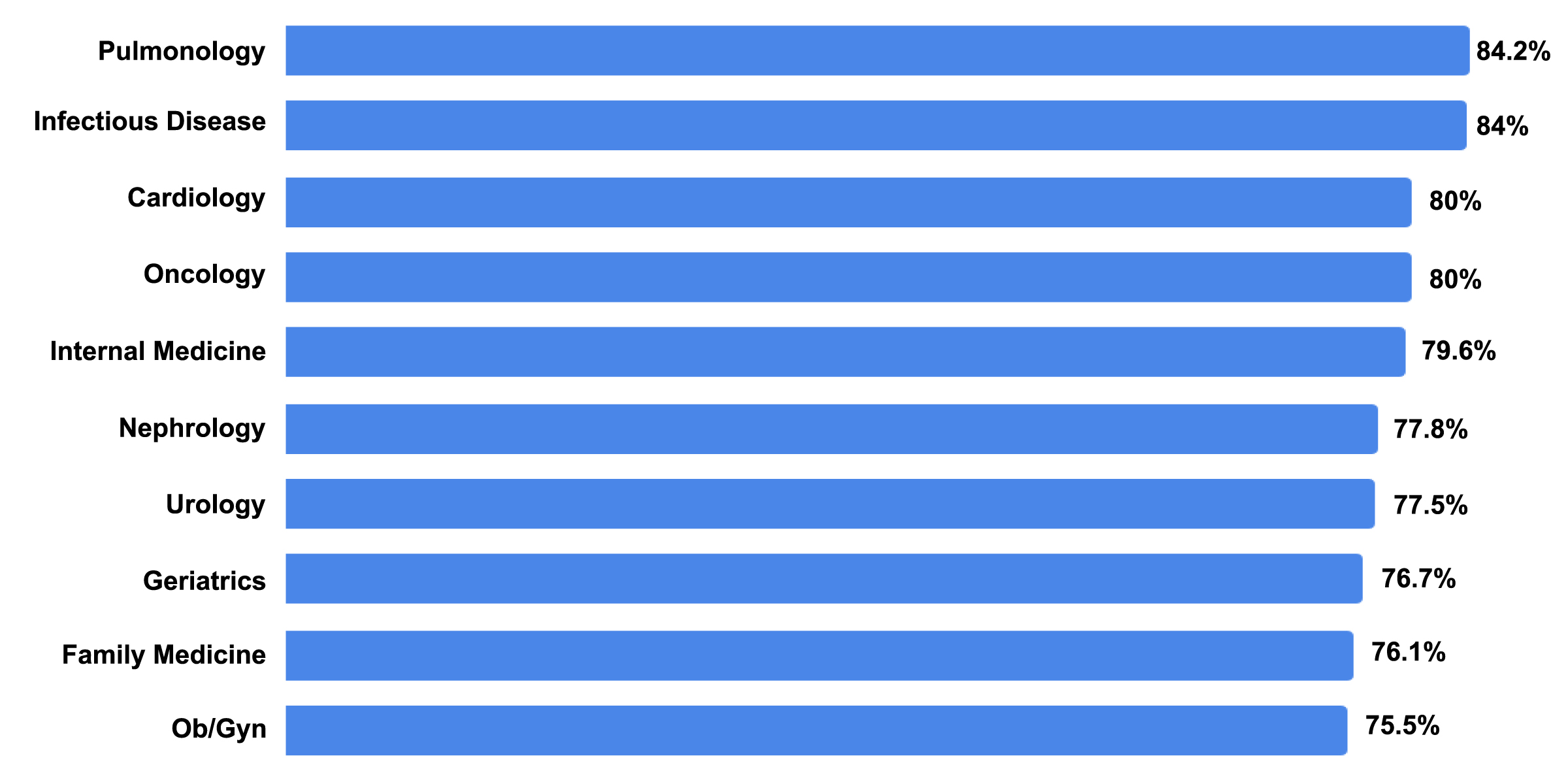 Among overworked clinicians, the toll of COVID-19 has compelled nearly half to reconsider their career plans: 21% now foresee early retirement, 16% are searching for a new employer, and 12% are pursuing a new career. The distribution remains about the same among clinicians regardless of profession, though pharmacists were more likely to favor early retirement.
Effect of COVID-19 on career plans of all clinicians (MD, DO, NP, PA, PharmD).
Primary care physicians, at 75%, reported feeling overworked much more often than surgeons at 69%. Widespread cancellation of nonemergency surgical procedures, mandated in many states to free up personnel and resources during the pandemic, may have contributed to this discrepancy.
With 49% of clinicians ready to alter career plans, the data suggest clinicians' resolve to prioritize the well-being of their personal and professional lives. They appear poised to make a change. Whether heightened workload will precipitate actual action remains to be seen.
Though the latest poll indicates that the majority of clinicians feel overworked, 26% of the workforce maintained that they were not. Those most cushioned against the pandemic, according to clinician comments, seem to be physicians who run their own private practice, as well as those who have been able to integrate telehealth into their workflow.
Large health care networks have turned to telemedicine to help reduce stress on clinicians and improve workflows — by cutting down administrative tasks and providing access to clinical decision support — as well as lowering costs. "The appeal of telemedicine isn't just that it makes things easier … [it] allows providers the freedom to administer the care that works best for both them and for their patients," Adrian Rawlinson, MD, a sports medicine specialist, wrote in online journal Medium.
What's more, several clinicians in the poll emphasized that elevated demand in recent months has not been a burden as much as it has been a product of their abilities and passion for the field.
"I surely would not say during these trying times that I am overworked," a physician practicing in California commented. "I would say there were/are additional hours that are put in, but clearly, that comes from the love we have (I would think and hope) for the patients that we care for."
Even among those who admitted to being overworked, a quarter have decided against any career changes, holding fast to their calling. Countless stories of clinicians who have taken up the gauntlet of COVID-19 treatment and care have emerged over the past year. Collectively, these stories have underscored the resilience of health care professionals in trying times.
"We have a brief window of opportunity to get ahead of two pandemics, the spread of the virus today and the harm to clinician well-being tomorrow," Victor Dzau, MD, president of the National Academy of Medicine, and colleagues wrote in NEJM. "In the race to respond to the COVID-19 crisis, we must not neglect to care for those who care for us."
Will the health care industry be able to shift clinician zeitgeist toward optimism? Share your thoughts in the comment section.
All opinions published on Op-Med are the author's and do not reflect the official position of Doximity or its editors. Op-Med is a safe space for free expression and diverse perspectives. For more information, or to submit your own opinion, please see our
submission guidelines
or email
opmed@doximity.com
.