Op-Med is a collection of original articles contributed by Doximity members.
This is part of the Medical Humanities series on Op-Med, which showcases creative work by Doximity members. Do you have a creative work related to your medical practice that you'd like to share? Send it to us here.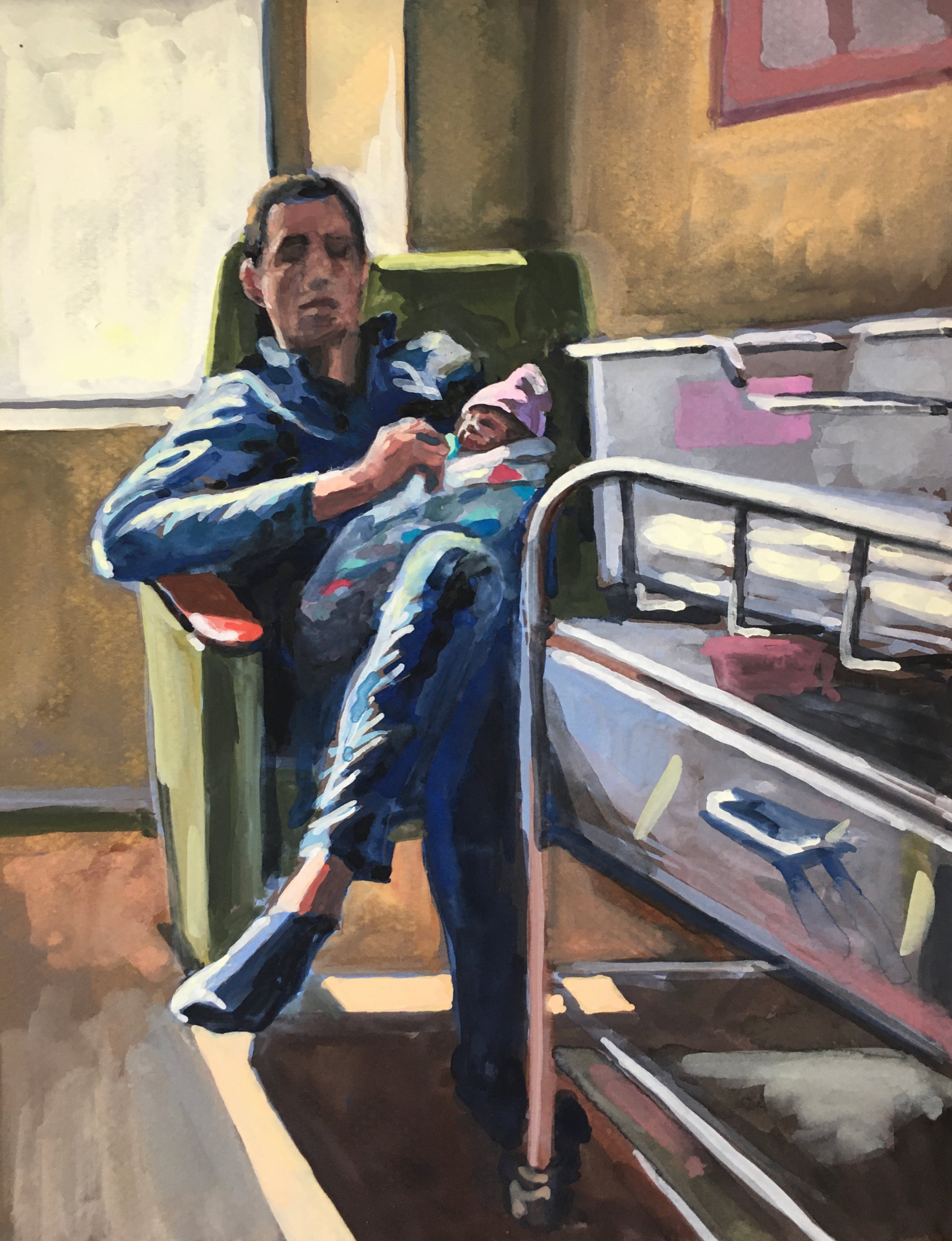 What inspired you to create this painting?
Click here to see the full image
The hours after [my] delivery had been chaotic. There were the usual complications, and then some. A second obstetrician had been brought in for a second opinion, the repair had lasted ninety minutes, and murmurs had been exchanged about blood loss and blood repletion. There was an epidural that worked wonders, and an appreciation for the relief of modern medicine. There was a transfer to the Mother-Baby Unit, introductions to the night nurse and charge nurse. Birth certificate forms were given and more blood was taken; this time, with intention and in tiny tubes. In a mere few hours, the door to our room revolved with medical technicians, food service personnel, lactation consultants, billing specialists, day nurses, cleaning staff, and, fleetingly, physicians. We were at the center of this orchestrated circus after the biggest emotional and physical event of my life.
Then, in the moment when the door finally closed with a click, there was stillness. The sun silently streamed through the window and caught the edge of the bassinet. I looked over at my husband, holding our new daughter, both of them with their eyes closed. Peaceful. We were all OK and there was a hush in the room to prove it. In training, I always marveled at the moment in a delivery when one split into two. It wasn't until this experience that I realized, truly, two split into three.
How long have you been painting? What got you started?
I have been painting for 20 years and initially painted with oil paints. Four years ago, I switched mostly to gouache paint because it is easier to travel with and is more conducive for shorter painting episodes.
Why did you choose painting? What interests you about it?
Gouache (rhymes with squash) is an opaque watercolor that is similar to watercolor in its convenience and versatility, but is different in that it is opaque and is painted on dark colored paper. Its colors are vivid, like chalk, and can be layered for more definition.
How does this submission relate to your medical practice?
The experience of being on the patient side is a good reminder of how chaotic, busy, and overwhelming a hospitalization can be. As the rounding physician, you may think you are the only one at that moment in the patient's room, but you are just one of a string of occupiers of that space.
Eleanor Tanno, MD, is a practicing family medicine physician in Rockville, Maryland. She grew up in Bethesda, Maryland and stayed locally for medical school at the University of Maryland. She paints semi-professionally, often showing and selling her work. She paints with oil and gouache paint from both photos and plein air on location. She has a one-year-old daughter and frequently states that she didn't know she could love that baby so much. Find her online at EleanorTanno.com.
All opinions published on Op-Med are the author's and do not reflect the official position of Doximity or its editors. Op-Med is a safe space for free expression and diverse perspectives. For more information, or to submit your own opinion, please see our
submission guidelines
or email
opmed@doximity.com
.