Op-Med is a collection of original articles contributed by Doximity members.
In June, 2019, Doximity asked our members to tell us about an unusual activity that helps them blow off steam. The winner was Dr. Yancey Holmes, a private practice endocrinologist in Kentucky, and his notable pastime of woodworking.
It started with a bad habit.
While Dr. Yancey Holmes had always appreciated "good-looking" furniture, what actually drew him into woodworking during his internal medicine residency was his bad habit of smoking cigars.
"Some friends of mine and I hung out and would smoke cigars once in a while. I thought it was cool and sophisticated, so I smoked a few and was like 'I'm going to build a humidor.' I believe I saw one like it in a magazine and came up with my version of the design. So that was kind of my first stimulus," Dr. Holmes explains. "So, I built the humidor — a box for storing cigars — and then that just blossomed from there. Fortunately, my cigar habit only lasted a year or so."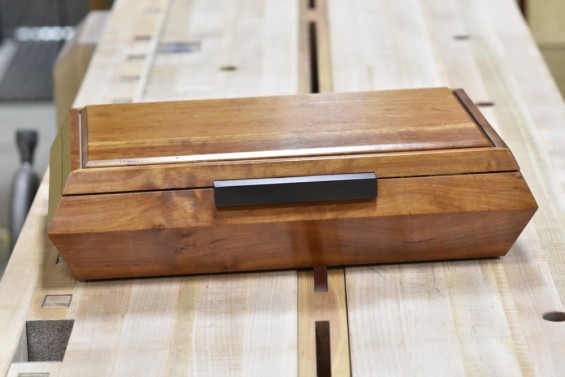 While Dr. Holmes kicked the smoking habit, he kept the woodworking, finding satisfaction in making something to be proud of.
His most challenging piece, and one of two pieces that fill him with the most pride, is a hutch he made for his wife, Jean. He started it in September 2018 and did not finish it and move it into his house until six months later.
"It came together really nicely after a lot of challenges and a lot of errors and redos, particularly on the divided-lights part. So, where the glass in the door is, those are individual panes of glass. So, you have to make those moldings to fit exactly. To make the little square spaces for the glass. That took some time and some four-letter words and starting over," Dr. Holmes says, chuckling as he reminisces. "But I got it. I finally got it in the end. Jean was just absolutely thrilled with it. And seeing her smile was worth all the difficulties."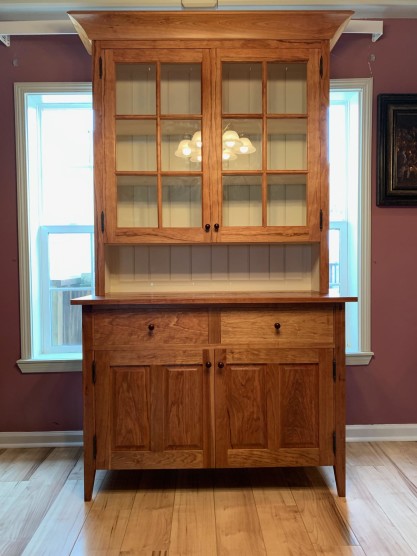 His proudest woodworking piece was the crib he made during his second year of residency for his daughter, Alexandra.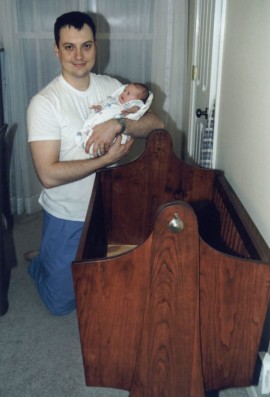 As a medical student, Dr. Holmes had seriously considered specializing in surgery. The art, precision, and detail in woodworking could possibly translate well toward a specialty in surgery; however, seeing patients in pain is something Dr. Holmes has a hard time with. Instead, Dr. Holmes decided to delve into endocrinology. He and his wife currently run the only private practice specializing in endocrinology for a 60-mile radius in Maysville, Kentucky.
Instead of finding focus in surgery, Dr. Holmes finds soothing concentration in carving up wood, particularly when he uses a hand plane, which is used to shave down or smooth a piece of wood.
"Hand planes generate thin ribbons of wood as they cut, and there's something very satisfying about that. Like using a very sharp knife on a tomato, there's something inherently satisfying about making a clean cut — not in any kind of morbid way," he adds. "But you're seeing the blade go to work, making a fine shaving. That's very relaxing, so you can kind of focus on that and forget about other things that are stressful, and totally relax doing that. Plus, you get a little bit of exercise doing it."
While Dr. Holmes uses woodworking as a way to unwind from his week, he does find similarities between it and medicine, particularly when it comes to having foresight and patience.
"When addressing a woodworking project, or in particular, if I'm coming up with a design or looking at somebody else's, I have to go through a process of: how am I going to put this together, how am I going to mill the boards out, how can I make this work with my current skill level and the tools that I have to come up with the end product that I want?" Dr. Holmes says of planning. "That's the problem-solving process, in that way. Just like making a diagnosis with a patient, they come with a problem, and [as an] endocrinologist, I'm trying to decide if this is a hormone disorder or something else. If it's diabetes, what is the broken piece of this equation that I need to fix?"
Though Dr. Holmes enjoys the challenge, he's ultimately in woodworking for himself, not for money. Dr. Holmes has been asked many times if he would sell his work, but he's not interested in profit.
"It changes the dynamic, because then it becomes something that somebody else wants, and not really what I want to do. And then it's no longer a hobby and you have all those other performance things that come along with making a product for somebody for sale," he admits. "It can take away some of the fun of it."
However, he's willing to share his work. Usually, when someone asks for a piece, he offers it to them. He's made numerous gifts such as pens and wine stoppers. He's also made a lot of bowls and uses a lathe to create them. Though self-taught himself, Dr. Holmes says that "turning," which is done on a lathe, is a good entry into woodworking, for those who are interested.
"For someone wanting to get into woodworking on more of a limited basis, turning can actually be really easy to get into. Taking your chunk of wood and mounting it on the lathe and starting cutting into it to shape a bowl out of it," Dr. Holmes says.
"It's pretty neat. The shavings flying all over the place, and it makes a neat sound," he describes. "It's kind of mesmerizing, just watching it happen."
All photos of woodworking provided by Dr. Holmes.
Illustration by April Brust
All opinions published on Op-Med are the author's and do not reflect the official position of Doximity or its editors. Op-Med is a safe space for free expression and diverse perspectives. For more information, or to submit your own opinion, please see our
submission guidelines
or email
opmed@doximity.com
.