Op-Med is a collection of original articles contributed by Doximity members.
This is part of the Medical Humanities Series on Op-Med, which showcases creative work by our members. Do you have a poem, short story, creative nonfiction, or visual art piece related to medicine that you'd like to share with the community? Send it to us here.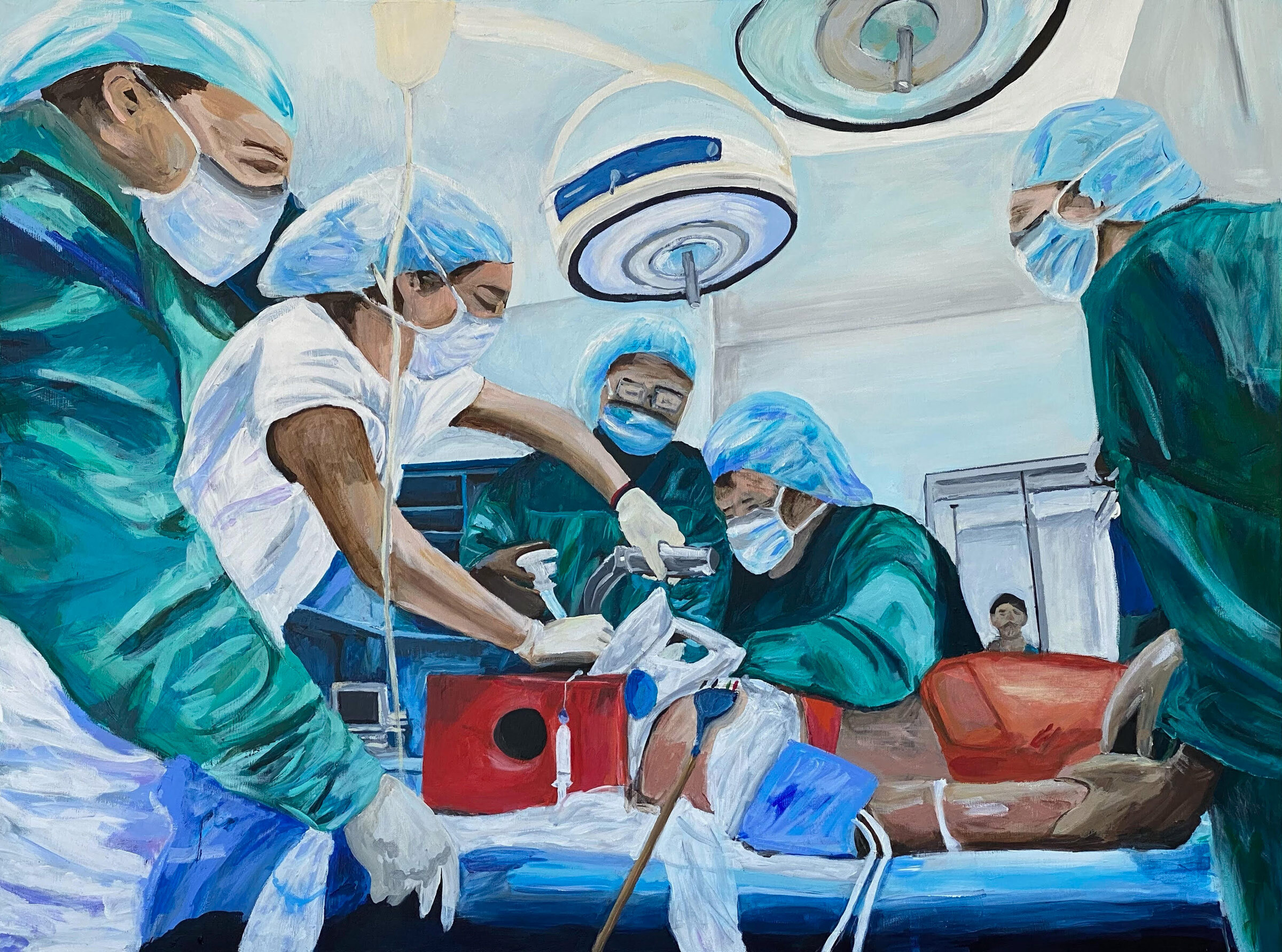 What was your inspiration? Did other creative works, if any, influence your creation of this piece?
My inspiration was Concha Lawand — the person in the image intubating the patient — who was my mentor and friend at the University of Miami. She was and still is the smartest and best doctor I have ever known. She died in 2012 of lung cancer. She is missed. The photo perfectly represented so much of what and who she was. I painted her all in white on purpose to stand out. No other creative works inspired me. Though I am mostly a watercolorist , I chose acrylics because I thought Concha deserved to be BIG as she was bigger than life. This painting is 4 feet by 6 feet.
Why did you choose this medium? What interests you about it?
I chose acrylics because I have just started using them and I love them. They are quick and fast and the color is true. When it doesn't work out you just paint over them and the opacity works well.
How long have you been doing this activity? What got you started?
I have been painting on and off for 30 years. Mostly off. I have had more time in the last couple of years so I started back. My mother was a painter and there were always artists and paint around the house.
Is there anything else you'd like to tell us about your involvement in or views on arts in medicine?
I think that mostly very creative people make very good doctors. They can think outside the box and come up with things that noncreative people ordinarily do not.
How does this submission relate to your medical practice?
This submission relates to my medical practice as I was primarily trained to do trauma critical care anesthesia and being in a trauma center intubating emergent patients is what I do. It is the definition of saving someone's life.
Caroline Ferris a critical care/anesthesiologist who was in academic medicine for about 17 years. She does mostly locums, is the mother of twin 11 year olds, and lives in Dallas Texas.
All opinions published on Op-Med are the author's and do not reflect the official position of Doximity or its editors. Op-Med is a safe space for free expression and diverse perspectives. For more information, or to submit your own opinion, please see our
submission guidelines
or email
opmed@doximity.com
.